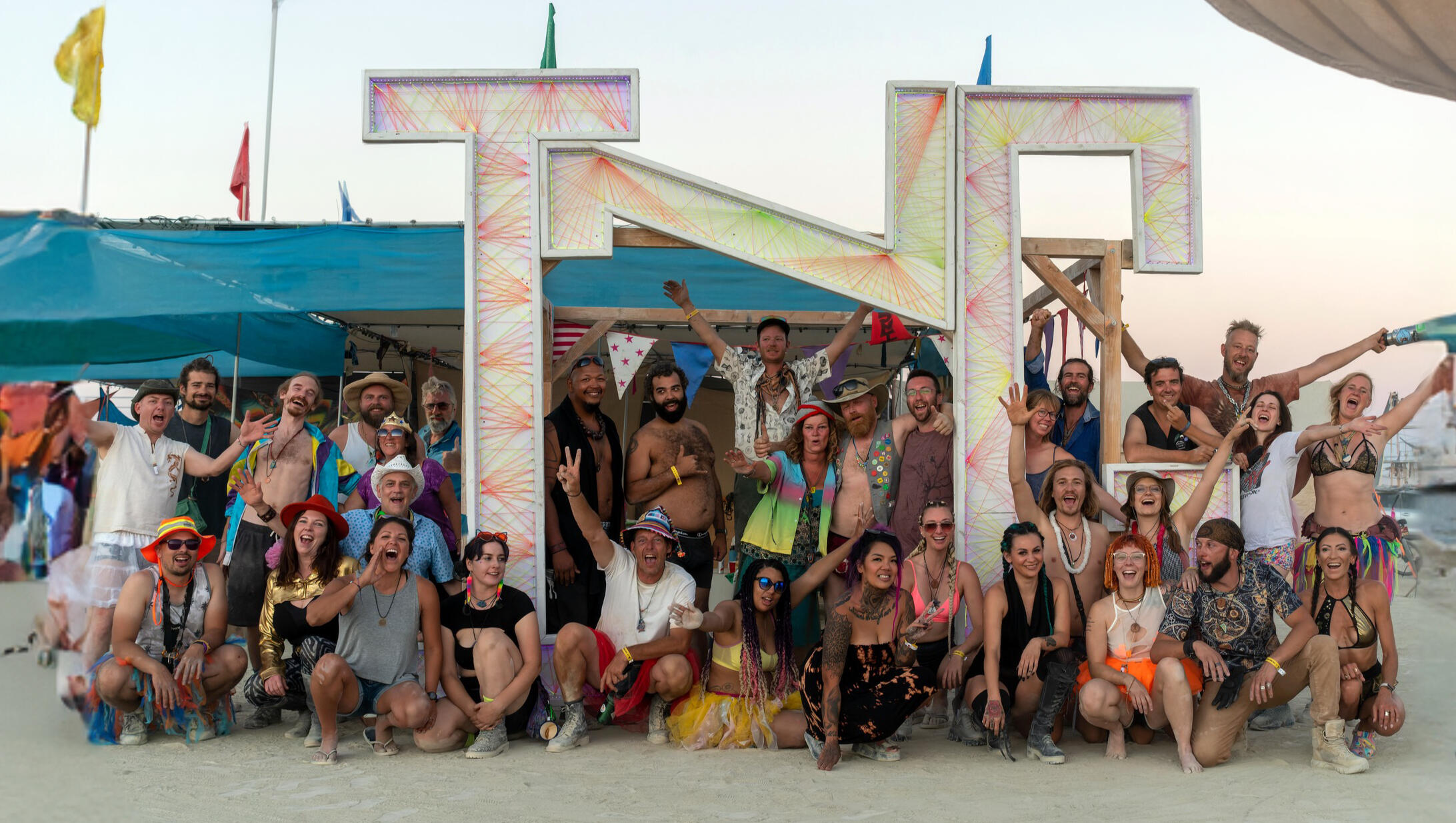 "ING"
---
Just a camp at TTITD
---
Who?
We are a group of friends from all over the world who rendezvous once a year in the desert to live, work, learn, play and party hard while Participating in the pure awesome of all that is Burning Man.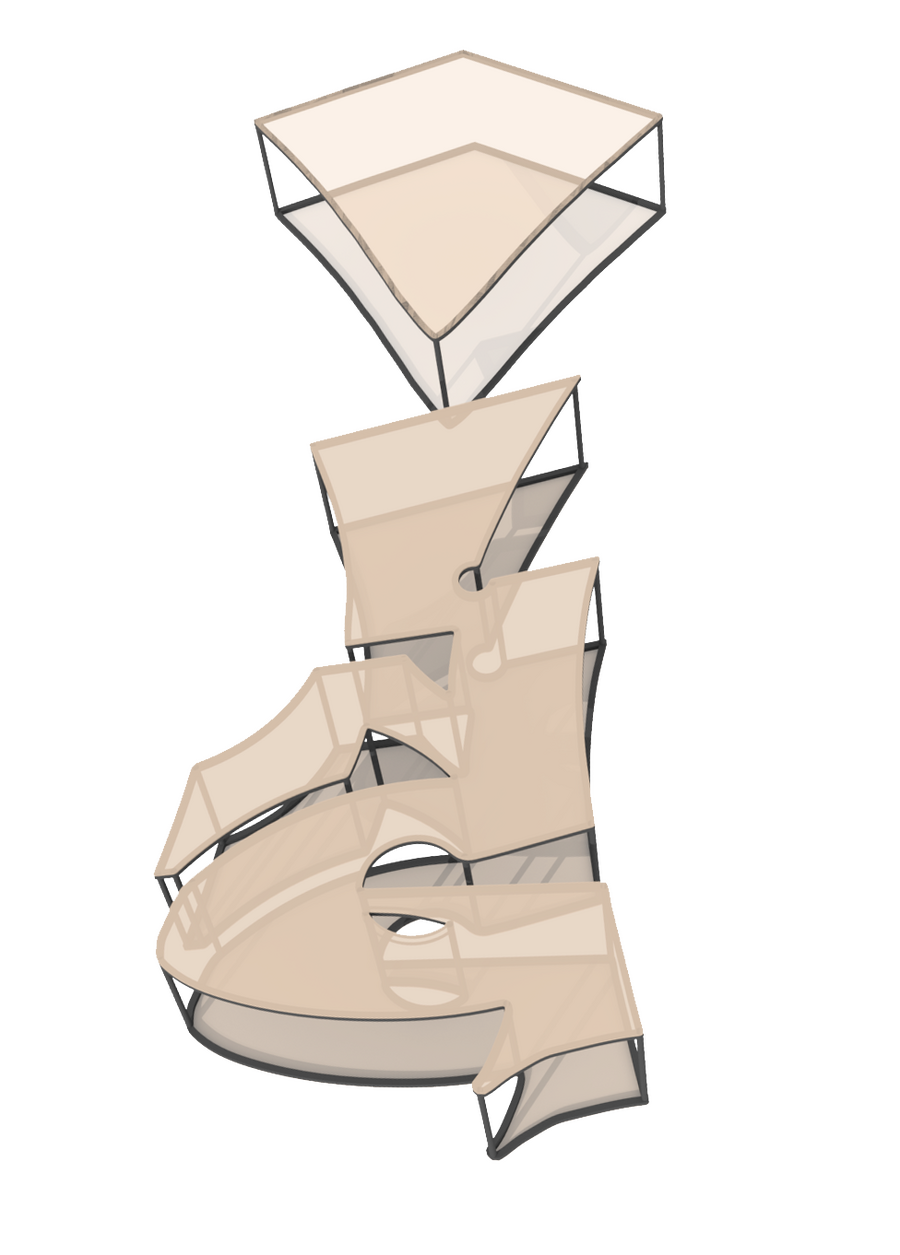 ---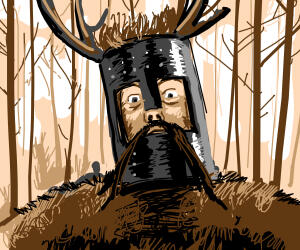 What?
We created a Theme Camp as our primary contribution to the community of Black Rock City.
For the better part of a decade we were the PlayaNauts...meaning roughly: "explorers of the playa" in 2018 while still of a similar ethos, we completely physically re-structured and refocused and became a camp called "ING" (camp-ING)
---
WHERE?
Our address is
"ING"
Black Rock City, NV, 89412!For the 2022 event we have been offically placed at 8:15 and Glimmer.
see you in the dust!
---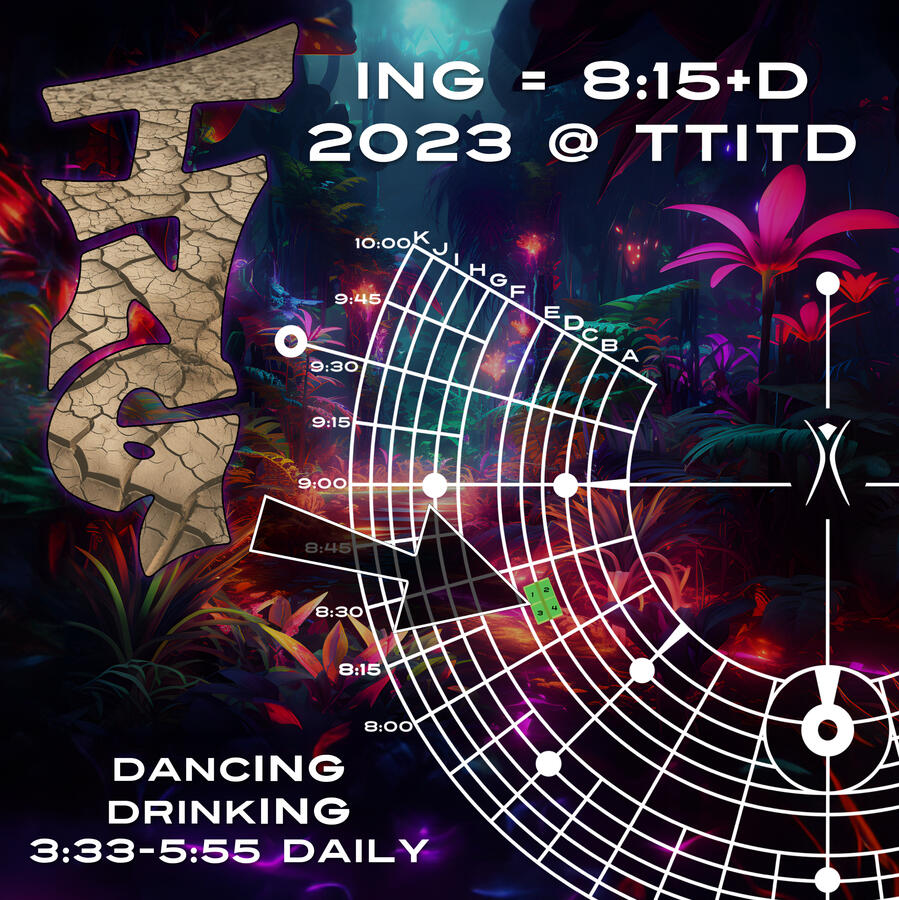 ---
should I be Camp-ING?
---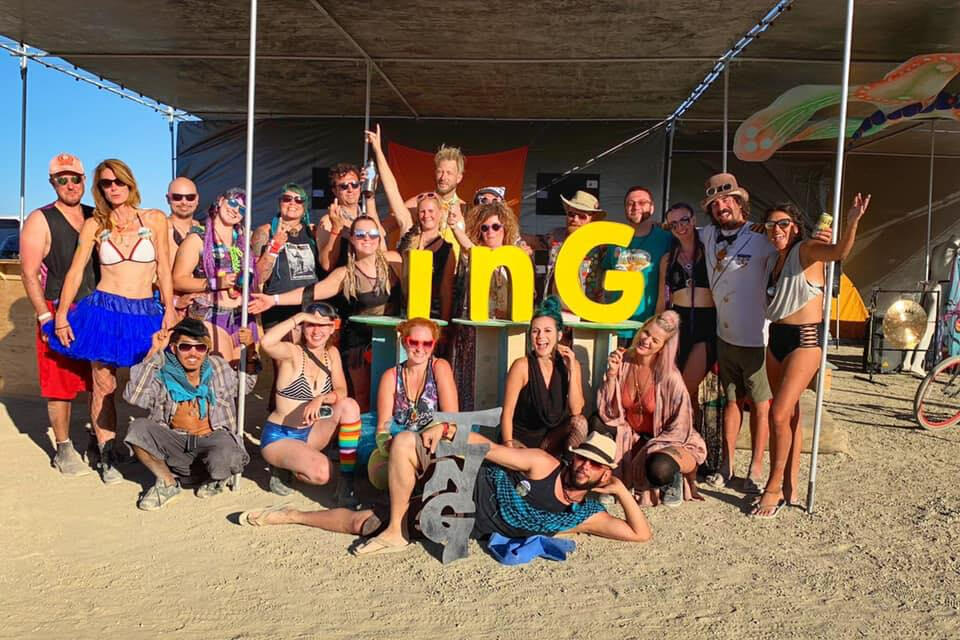 To join a Theme Camp or not?
Do you show up with just a tent and cooler and rough it solo?
or do you join a group of experienced burners who will welcome you into a camp with all sorts things to offerRemember that the only facilities provided to the "public" at Burning Man are Porta Potties, roads, and Ice
...and you have to buy the ice
Everything else is up to you!Unless of course, you have a group of fellow burners to help lighten the load!!!PLACEMENT:
First off you will know where you'll be living and sleeping months before you arrive on playa, so you can tell your friends and also begin planning your adventures.SHADE:
You get to enjoy our shaded common area! 600sqft of common shade for the dance floor and bar area, relaxing and staying cool. Please note you will be camping in a desert climate, we recommend personal shade in addition to your tent, for ideas and FAQ click hereKITCHEN:
We set up an area that you can prepare your own food (tables to cut, wash, cook etc) and an area to sit with campmates and enjoy your meal. (we do not provide communal meals, merely the facilities...stove, pots, gas etc) but please understand communal meals do happen organically and you are more than welcome to organize a group meal if you so desire. (Ask about our TACO TUESDAY!)SHOWERS:
We will build a camp-use solar-heated shower enclosure on a platform with a proper greywater dispersion system. (BYOWater, Pack it in Pack it out!)LIGHTS:
We will have ambient lighting around camp and inside structures to light the dark, Plus we will have a lit "ING" sign on our tower, and a giant 10' ING at the entrance to the camp.MUSIC:
We will have music set up and we do plan a few parties during the week, but we are not a large-scale sound camp, just enough for some small dance parties and a good time. (a few 1000w speakers and a sub)VIEW:
This year we are adding a tower for an added chill space + sunrise / sunset viewing platform.
like everything on playa, climb at your own risk.COMMUNITY:
We are a group of friends from all over the world, and we have new people joining our camp every year, so there will be lots of new faces. (Don't worry, you're not the only one coming solo!) we will have group chats and facebook meetings months before burn, if you have any questions or want to organize an event or rideshare, reach out at any time.EVENTS:
We host various events as a group throughout the week, like our Mobile Pop-up bar, a couple of different Parties, TuTu Taco Tuesday, Funky Bass MaiTai-ING on Thursday, French Friday, ArtING, and some classes like aerial and yoga and flow like Nunchaku, and we try to make it as a group to watch the Man and Temple Burn (but no pressure) We post these happenings in the What Where When guide as well as on our event schedule in front of camp.NEXT YEAR:
This year you make friends and get more situated in camp, next year you don't have to hunt around, you already have a great home and an awesome playa family.What is Expected From EVERY Participant in camp ING:
READ or Re-Read and know the official Burning Man Survival Guide
(click for link)Observe and Practice the 10 PrinciplesLNT LNT LNT LNT...... LNFT.....LEAVE.NO.FUCKIN.TRACE. no snark, no joke, you make a mess you clean it up period. your mom isn't here. (and if she is she busy and will NOT be cleaning up after you!)Leave the DRAMA and EGO at home before coming to the playa, living for a week plus in the desert is trying enough already on many levels, if you have a conflict or issue, come to one of the camp leads for assistance.ASK QUESTIONS!
Finally and quite possibly the most important, EVERY member of the camp ING will be expected to...PARTICIPATE!Our community is committed to a radically participatory ethic. We believe that transformative change, whether in the individual or in society, can occur only through the medium of deeply personal participation. We achieve being through doing. Everyone is invited to work. Everyone is invited to play. We make the world real through actions that open the heart. (right from the 10 Principles)
THIS ALL SOUNDS GREAT SIGN ME UP!!!(click the man to continue)(((((((____ )'( ____))))))).
Sed feugiat
---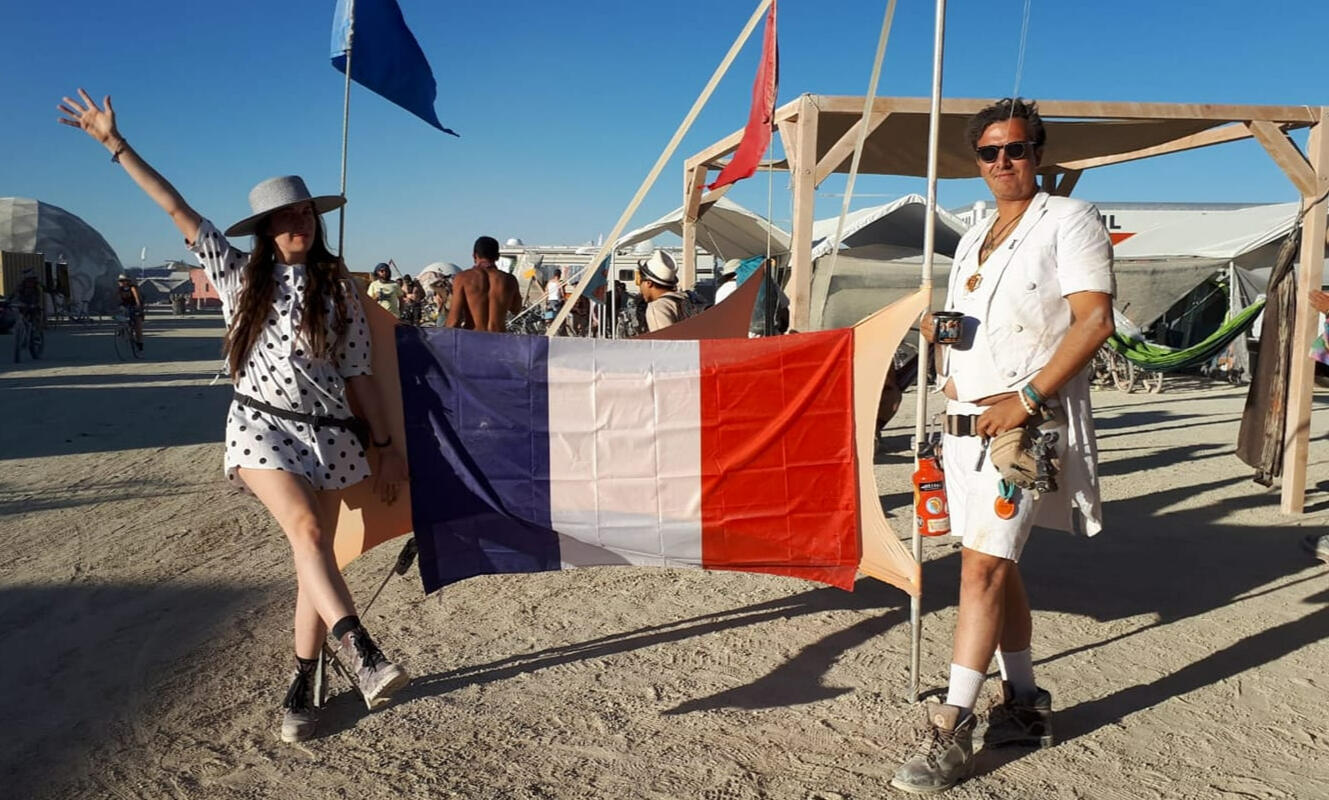 So You Wanna Join ING?
First and foremost our camp is what it is because of the dedicated (slightly insane) group of friends and strangers that work hard and play hard(er) every year to make that weekish in the desert is one to remember.On the other hand it also takes some financial backing to make it all happen.Shade structures, Shower and Kitchen facilities, Generator, Transport and Storage unfortunately do not grow on trees, so we've elected to use camp dues as a way to share the financial expenses of running a functional theme camp.
Due Structure for 2022
For 2022 the camp dues will be a non-refundable $150.00 per person, (Details TBA)
the sooner you send your dues, the sooner can lock in your spot for 2022If paid after August 1st it will be $175.00 per personThe reason for the due date is to allow funds to be allocated in time for pre-playa planning, dues are not for fun, they allow us to buy and build and repair the stuff in our camp, and most of the expenses happen long before we reach the playa.Please note that when joining and sending in dues you are committing to be a part of ING, typically dues hold your space and prevent someone else from joining, therefore dues are non-refundable....however life happens and emergencies arise so if your plans do change Early Enough on please let us know and we will try to work something out*When you go car-camping, you usually pay a nominal fee for the pre-made camp space, and maybe a BBQ grill and parking, and if your lucky...shower facilities$150.00 isnt too bad and although the financial expenses are way more than that to put everything together the dues help shoulder the main expenses, allowing us to maintain a solid and updated camp infrastructure, more communal shade, amplified music and communal camp lighting, Art, decor, a good generator or two, transport of it all to and from the playa and storage throughout the rest of the year.Where the Due Money goes, in some Detail:Storage: Roughly $1900.00 per year for our 10'x 20' storage unit.
Transport: We are working on a solution to transport to the playa but at the moment camp core are transporting personally and so it's just a small fee and huge thank you $300
Generator: we now own two it but this is for new filter muffler maintenance and running gas $450Shade Structures (up-keep and repair, but in 2022 we did a massive upgrade to Aluminet shade roof, this cost close to 2kShower Facilities: We have a private shower box, and a powered pump with solar shower bags, the process is BYOwater (bring your own water, pack out your greywater) -$300Kitchen Facilities (we provide a communal area to cook and eat with camp stoves and this year a new Griddle top.) this includes 4 5 gallon Propane canisters $225Bar Supplies: While we do ask that campers bring alcohol they personally enjoy or would like to share with camp, as a group we get Mid grade alcohol and spend about $700.00 for the happy hours.LIGHTS: New LED lights for camp common area, new ING sign both up top and 10' sign out front which Matt spent countless hours building $500Swag: Xain's making Laser cut ING pendants at cost for the entire camp $200.00
GAS:on playa gas for use of the genny :$200.00Benches: New PlayaTech Benches for common area :$200Designated camp location (This part technically doesn't cost money and nobody is paid for any work at all....but we'd like to point out that as part of a placed theme-camp you will know where you will be camped way beforehand and can let friends know where to find you.so...
This in total comes to $ and is a rough estimate.
Divide that by:
35 people= $184.00 per person.
40 people=$ per person
So the $150.00 per person is a safe estimate because we are aiming for somewhere between 35 and a maximum of 45 people in camp this year.If at any time you have any questions about dues or how they are allocated, please feel free to contact us
ok, sounds good...HOW DO I JOIN?
Step 1: Fill out the camper application here. <---(if link doesn't work, see below or contact us)
Step 2: Wait for a response, you will receive an email or text with info on how to send Dues. (Please not send Dues before you receive link)
Step 3: Start meeting your fellow camp mates through Facebook group, here on the website, and also our mailing list.
lastly: Come to Burning Man!
Origin story
---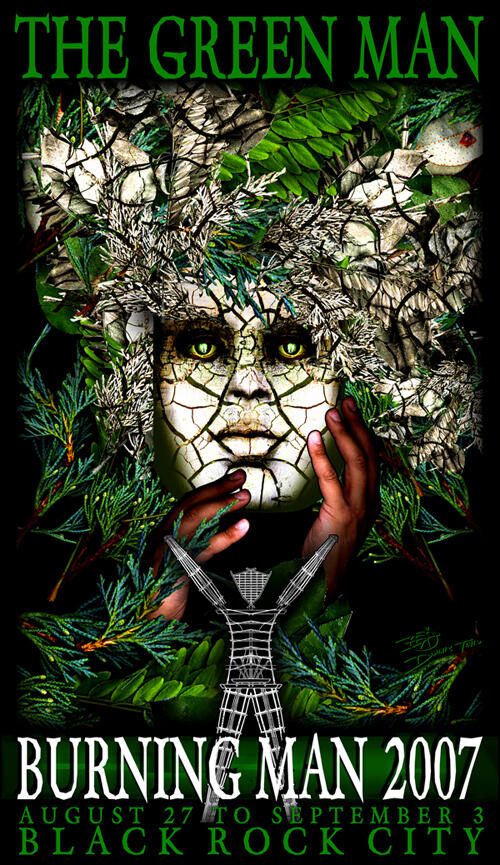 Way back in the day a few of us from Eugene, Oregon stumbled upon this thing called Burning Man, some of us joined a coolFuckinCamp for a few years and loved it, however, we wanted to branch off and bring some of our own dusty debaucheries to the playa. We tried a couple different iterations over the last decade but today we are camp "ING" on the spectrum of camp types we land on the "radical self-reliance" side of things, we throw some great parties, have an awesome daily happy hour, and most importantly we have formed a truly amazING playa family hailing from all corners of the globe and all walks of life. We welcome you all to come by and check us out, and if you're looking for a camp to join, follow the link below for more details.-ONE OF US ONE OF US-